Stoves 90,000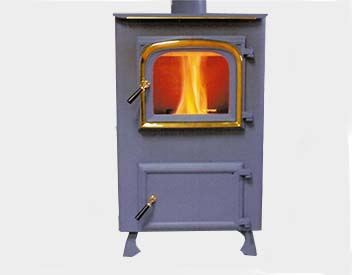 Coal stoves that provide you with warmth like a fireplace.
These stoves act like heaters giving you heat during the cold weather.
Keystoker provides stove repairs and replacement parts!
The single wall 90,000 BTU and the double wall 105,000 BTU stoker stoves using the patented built in heat exchanger and flat grate stoker design gives you the highest possible efficiency in a coal stove. Sit back and enjoy the warmth of the popular Keystoker stove and the savings of using clean burning anthracite coal. See advantages and learn about the great options on these popular stoves.
Chimney or Direct vent.
Top or Bottom Vent.
10 Year Warranty on stove.
Optional Stainless Steel water coil.
Fabricated from heavy gauge steel, Cast Iron Grates Ash door, and Fire door.
Uses clean burning anthracite Rice, Buck wheat or a mixture of both.
Top vents have our patented built in heat exchanger to maximize efficiency, up to 90%.
Optional 6″ or 8″ convection air vent.
Fully automatic- No need to shake grates or shovel ashes.
Comes completely assembled and wired except for hopper.
Heat output controlled by room thermostat.
Optional choice of 14 colors.
Carbon monoxide detector and second ash pan includes with all stoves.